We are on the initiative of Birdies4Kids! and were spontaneously enthusiastic about the idea. Birdies4Kids! is a community of friends of golf and sports enthusiasts who support children with cancer by donating the proceeds from the birdie pool of various tournaments to the parents' initiative Krebskranke Kinder München e.V. (Children with Cancer Munich). Help with sportiness!
We thought about how we could support this idea and after a short consultation with Mr. Kamps we produced 10,000 Birdies4Kids! teas. Some of the teas we make available to Birdies4Kids! for our own use, for example at tournaments, the other part we want to sell here in our shop and thus collect as much donation money as possible.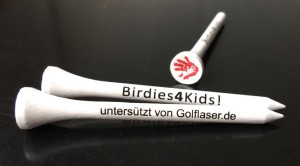 That's how we donate:
For every single sold Birdies4Kids! tea pack we donate 100% of the amount to Birdies4Kids! (to the teas)
If you buy a laser together with the Birdies4Kids! teas, we will donate 10€ per order.
We hope to be able to sell all the teas and hand over a large amount in the end.
Your Golflaser.de - Team
PS: We discovered with dismay the small spelling mistake on the teas :( Well, unfortunately it happened.