Discover the next generation of launch monitors
Ernest Sports from the USA revolutionizes golf with new launch monitors for golf instructors, fitters and ambitious golfers. The ES16 Tour Launch Monitor provides real-time, important data about your punch - easily and affordably. The ES16 Tour combines both Doppler radar and photometric cameras to deliver the most accurate impact data available. Bring pure golf fun home!
Measurement data on the ball
carry distance
total distance
roll distance
Ball Speed
lateral carry distance
Lateral Total
distance
Launch Angle
Launch Direction Angle
spin rate
spin axis
maximum height
Hang Time (Flight duration)
Shot dispersion (scattering)
landing angle
Measured data on the club head
Club Head Speed
smash factor
Angle of Attack
spin loft
Face Angle
Club Path
dynamic loft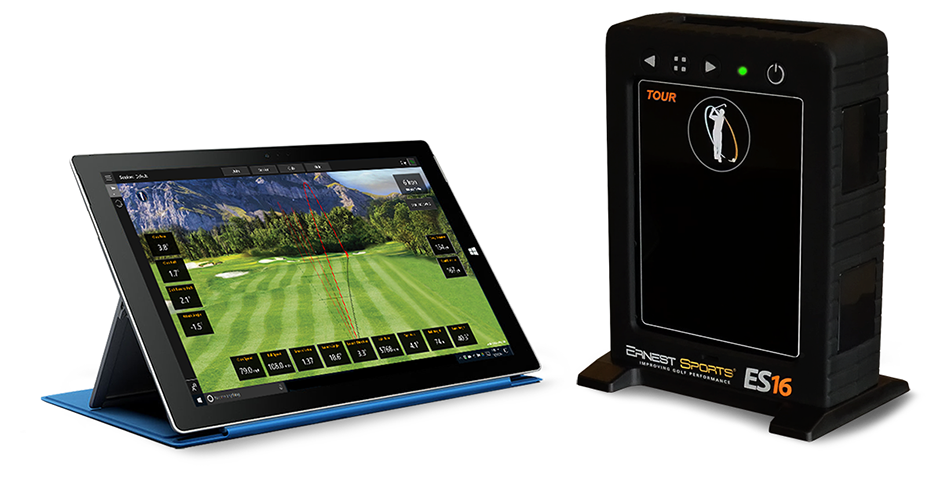 Die ES16 App (iOS und Windows)
The ES16 Tour connects to the free Ernest Sports App to provide additional shot data. It allows the user to select the distance to the pin and see the live ball flight, while additional graphs show the ball flight from the air and side perspective. Analyze your area session by looking at club averages, shot dispersion, shot shape, and individual shot statistics. Save your area sessions by user to keep your data separate from your friends and watch your game improve over time.
Golf Simulator for at home
The ES16 Tour offers you the inexpensive way to create a golf room at home. The precise measured values offer a complete simulation and are the basis for an effective (winter) training at home. Or play the best places in the world at home.
Video with ES16 Tour
See the ES16 Tour in action:
Description and instructions
We recommend that you read and follow the instructions. The ES16 is a technically sophisticated system that requires technical understanding. We are happy to help you with general questions, but cannot provide any technical support. But with instructions this should not be a problem.
Scope of delivery
ES16 Tour Launch Monitor (1.5 kg)
bag
App (im Appstore für iOS und Windows)
battery
instruction